In what will be my last review for the Schoolhouse Review Crew, I would like to introduce to you Grace & Truth Books.
Grace & Truth Books is an online Christian bookstore that has been built around "what will glorify God, strengthen His people in their walk, and call all peoples to find joy in knowing His gospel and following him" rather than being based on "fancy packaging". They offer books on everything from Homemaking to Children's Books to DVDs & Videos
and much, much more. I was very pleased with the selections offered and the quality of those items.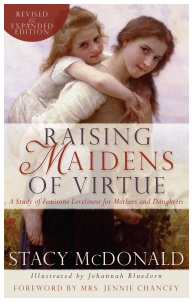 Hardback
$18.50





Raising Maidens of Virtue is a Bible study that aims at raising daughters to have a life that will honor God. In today's day and age, this is no easy feat. Darts and arrows are being thrown in every place and in every way towards the young woman of today. Temptations lurk beyond the corners. Having the opportunity to give my daughters the tools that they will need in life to steer clear of things that will not allow them to walk a Godly path is very important to me which is why I feel blessed to have been able to review this selection.
Chapters include such topics as "Modern-Day Maidens", "Dwelling in Unity", "I Love Me, I Love Me Not", "A Knight in Shining Armour" and 16 others. The beginning of each chapter begins with a Bible verse and then follows the thought provoking story type devotion. They end with "Share Your Heart" which is all about delving deeper into the word of God and discussing in greater detail what was just read.
As there are several pages to read in order to study each chapter, it was easiest for me to read first and then let my daughter read it by herself and afterwards discuss what we had read. Sharing our thoughts and insights while reading and studying God's word is a wonderful thing to be able to do together. I like the length of each chapter. There's not so much to read that you can't take all of it in, yet there is plenty of content that is presented in a way that really makes you want to read more. The questions and selected verses are perfect in that they help to instill the virtues that young women need today. Ones that they will fall back on while growing up to become women.
This has been one of my favorite books that I've had the opportunity to review! Visit www.graceandtruthbooks.com to learn more about this books and all the other that they offer!
service@graceandtruthbooks.com
Grace & Truth Books can be found on FACEBOOK!