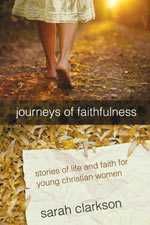 Journeys of Faithfulness by Sarah Clarkson is a book of stories of life and faith for young christian women ages 12 and up. This 232 page paperback book is available
from
Apologia
for $13.00.
The book is divided into these four parts, with 3 chapters each:
Part two: Mary, Mother of Jesus
Each chapter contains stories of life & faith, a devotional, Bible study, and a Journey Journal.
I chose to read the entire book myself before reading it with my daughters. I read one chapter every other day but plan on reading one chapter a week with my daughters so we can have time to read the actual passage in the Bible, reflect on the devotions, and dig deep in God's word by studying the Bible verses given for each chapter. I love how several pages are included for journaling as well.
At first, I wasn't sure I would care much for fictional stories of Bible passages but once I started reading, I was drawn in. The author made each story come alive and as a reader, I almost felt that I was there, going back in time.
One of my favorite chapters is Chapter 12 of Part 4, which is about Ruth. I especially enjoyed reading "Desire of My Heart." Ruth is an excellent example of faithfulness and trusting in God to lead her where she needed to be. This book would make a wonderful addition to any home library!
Have questions about the book or any other product from Apologia? Use this Contact form or call (888) 524-4724
.
Apologia has many other products and curriculum worth checking out. I have been blessed to review several products from Apologia and I haven't been disappointed in any of them!