One of our favorite pastimes is listening to old time radio shows. I love the wholesomeness of the stories, the anticipation, and the visualizing of the characters that are coming to life in the stories. There's not much out there like that anymore. It seems television prevails. If you watch much of it, you know as well as I do that there's not much in the way of "family" shows. For this reason, I was very excited to review the
Sugar Creek Gang
audio books on CD from
Beloved Books
.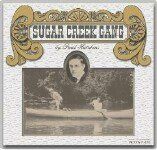 From the website:
"In 1939, Paul Hutchens began writing a series of wholesome Christian
adventure books for boys and girls. Several years ago Paul Ramseyer was inspired to
dramatize the book series for radio. Now your family can own and enjoy the
complete 36-book audio series... over 100 hours on 72 CDs!
These Sugar Creek Gang "Audio Adventures" are dramatically read straight from the original books. Christian families LOVE this series because the gospel message is presented in such a simple, easy-to-understand style. The whole series is, in fact, a discipleship journey... even parents who listen along witness the Holy Spirit working changes in their own hearts!
Families also enjoy the delightfully interspersed segments of nature study, poetry, hymns, and even science lessons... all skillfully woven into the fabric of the stories."
The Sugar Creek Gang Volume 1 series is available for purchase for $54.95 and includes FREE media rate shipping.
This volume of CDs contains the following stories:
A sample CD of of the story can also be purchased for $4.95 and includes free shipping as well! There are 6 volumes in total.
My son usually listens to radio shows before he goes to bed, but once he got his hands on the Sugar Creek Gang, he liked it so much that he listened to the stories throughout the day and was finished with volume 1 in 3 days. He loved it!
Unlike some audio books, I found the narrator very easy to listen to and the stories that came to life definitely fit the bill of being family friendly. As I write this, a fire is burning in our wood stove and the cold wind is whipping around outside, and it comes to mind that the audio books from Beloved Books would be the perfect accompaniment on a cold winter's evening. I highly recommend this series and I am looking forward myself to ordering more of their products. I am very grateful for this review opportunity!