As a member of the Schoolhouse Review Crew, I recently had the opportunity to review
Samson's Classroom
.
Honestly, I didn't get the chance to review this product as much as I would have liked to due to being very ill the past several weeks. I am still battling bronchitis and a very bad sinus infection along with a couple of other things so I'm afraid this review might be a bit lacking, but I will do my best to tell you about the product and how we used it.
You can view the
DEMO
of the program to get a good idea of how the program works.
Complete PRICING information can be found on their website but the Home Plan for 1 student is $30 per year and the Family Plan for 4 users is $50.
I liked how the program included Lesson Plans and Worksheets like "Capital Clues" to help students learn upper and lowercase letters and "Trace Them All", to name a couple. All worksheets come up as a PDF file and are printable.

Categories include "Sight Words", "Spelling", and "Reading". Each Sight Words lesson is a game that was developed to help students master the 224 most commonly used words in the English language

. Spelling includes over 5,000 words and counting and Reading helps students to analyze reading material and to draw their own conclusions.
The program has a dashboard and a scoreboard, both of which are great features to have in order to keep track of the student's progress and problem areas.
Here are a few screenshots of the program: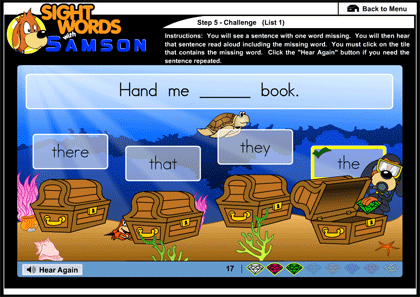 This program was actually a bit over my son's head. To be fair, he is still in preschool and just was not ready for much of the material. He soon became bored with the games that he did play, but again, I think it was because he wasn't ready for it. We have utilized other online programs that we liked much better for this stage of my son's education, but I think had he been a bit older this would have been a great program and a great fit for our family. The games lack the bells and whistles of some other programs, but the content is solid and I feel that when my son is ready, this program will be highly beneficial to him!
Contact information: 518-356-0039
general@knowledgewand.com
242 Union Street, Ste. 2A
Schenectady, NY 12305
Find them on FACEBOOK!