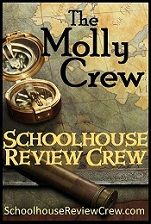 I am very excited to be writing my first review for the Molly Crew, a part of the Schoolhouse Review Crew.
The Crew reviewed one of two items from Everyday Homemaking: The Everyday Family Chore System and Everyday Cooking.
I was blessed with the chance to review Everyday Cooking in pdf format which I transferred to my e-reader by emailing the file to my Kindle address. Since I'm not much on printing things out (I tend to lose things), I loved being able to access the cookbook this way. It was a breeze to flip through page after page and much more convenient to carry around than my laptop!
Everyday Cooking, was written by Vicki Bentley- a (graduated) homeschooling mother of 8! The book is available in pdf format for $14.99 or in a coil bound 100 page cookbook with glossy cover for $17.99. It's pages contain a collection of "tried-and-true" recipes and hints for easy to make, everyday meals. You can preview Everyday Cooking here!
This review opportunity could not have come at a better time! Not only have our schedules been a bit too crazy for my comfort level (which has required some last minute meal ideas), but I have also been taking cooked meals to a friend here and there and needed some inspiration! When I made cheddar baked potato soup, the Cheese-Garlic Biscuits paired perfectly with it. I was in such a rush to deliver the food that I totally forgot to take a picture of them, but they turned out beautifully. The recipe called for a buttermilk baking mix but I was out of both store bought and homemade and didn't have time to make another batch of the latter. I did, however, have pancake mix on hand so I decided to give that a try. I'm not sure if pancake mix can normally be substituted when regular baking mix is called for, but in this instance it worked just fine. They baked up nice and fluffy and had a wonderful golden color. I should probably mention that they were delicious as well, especially after brushing the garlic butter on top of the still warm biscuits. I also made the "Do-Ahead Coffee Cake", but mine wasn't done ahead. The recipe calls for optional add-in's which I chose to omit since I wasn't quite sure if my friend and her family liked things like raisins, nuts, Craisins, or apples in their cakes. I doubled the amount of brown sugar that the recipe called for and omitted the honey because I was out of honey. (How can somebody who has 4 bee hives be OUT of honey? lol) Between the garlic and the cinnamon, we were in aroma heaven! The coffee cake was wonderful, and I think it might just be a new favorite recipe of mine! I made this recipe a second time with Splenda Nectresse and added Craisins and walnuts and it was a huge hit!
One of the things I really appreciate about Everyday Cooking, is that the recipes are not "set in stone", so to speak. I have probably altered every one that I have tried, only because I haven't always had the required ingredients on hand and I have had great success with them all.
We have made the Italian Chicken and Rice twice. The first time, my 14 year old made it for our friends and it smelled so good that the kids asked for it for our supper as well. So, after dropping the first batch off, I stopped by the store for more chicken and then helped my 12 year old daughter make some for our family. The second time we made it, I actually cooked the rice in our rice cooker just to save time. (It was getting late and we were all STARVING!) We mainly only use Jasmine (sticky) rice so that is what we substituted for parboiled or brown rice and I forgot to get another can of diced tomatoes so we ended up drizzling pasta sauce and adding a small amount of water to the dish prior to baking. Once again, even with the substitutions, the end results were wonderful!
I added a sprinkling of shredded mozzarella cheese on top!
Due to a long, drawn out day today, I needed a quick meal idea. The "Chops in herbs and Wine" perfectly fit the bill. But, once again, substitutions were in order. I never have any type of wine whatsoever on hand, and I was also out of apple juice. My rosemary was nowhere to be found and the spicy brown mustard was purged the last time I cleaned the fridge. So, my pork chops were layered over Gala apples (not the tart ones called for) after a slight dusting of ground mustard Italian seasoning, and my "juice" consisted of watered down baby applesauce that for some reason I still have on hand.
One of these days, I will make one of these dishes and follow the directions to a "t", but I love knowing that if I don't, the base recipe is so solid and easy that I don't have to worry about not having every single ingredient on hand. It has been a great learning opportunity for my daughters seeing what ingredient to use in place of another when you don't have everything that a recipe calls for. These recipes are easy to follow from start to finish and I love the variety included in this cookbook. Some of the dishes & desserts I had heard of and/or tried previously but it is wonderful to have them all on hand in one place. I do wish that there were more photos included in the book as I am a very visual person.
I don't use my pressure cooker often, but I do plan on digging it out of the closet (hmmmm
Bottom line? This is going to be one very well used cookbook!
Have a question? Contact them by phone at:
540-678-8939 or email Vicki at:
You can find
Everyday Homemaking on Facebook
!
Disclosure: