I didn't really know what to expect when I was chosen to review This Week In History, a daily resource provided by Thomas Jefferson Education. Let me just say, I was completely wowed! This is one of the best all-around resources that I have had access to in a long time.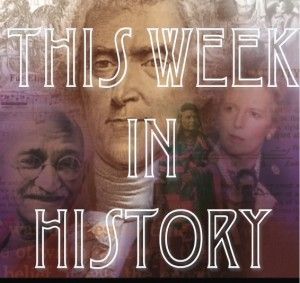 A subscription to This Week in History puts a world full of history right at your fingertips. With resources for math, science, geography, arts, language skills, and even current events & more, you will never be at a loss for ideas to help inspire your child and to instill in them a lifetime love of learning.
View SAMPLE WEEKS of TWIH by visiting:
http://www.tjed.org/twih/sample/ .
Check out the other FREEBIES offered by TJEd as well!
A Thomas Jefferson Education encourages the application of the 7 Keys of Great Teaching. They are:
Classics, Not Textbooks

Mentors, Not Professors

Inspire, Not Require

Structure Time, Not Content

Simplicity, Not Complexity

Quality, Not Conformity

You, Not Them
A
subscription
is $9.99 per month and can be accessed both on the
This Week in History
blog feed at
TJEd.org
and also via an email sent directly to your inbox. Have a question? Fill out their "contact" form to email Oliver and Rachel DeMille or check out one of the several discussion groups posted on that same page.
Sign up for their free monthly "Inspire" newsletter and receive 5 free gifts (via email):
The Future of American Education: 8 Trends Every Parent Should Understand by Oliver DeMille (83 page article in pdf format)
List of Recommended Classics by Rachel DeMille (15 page pdf with lists for Family Reading, Youth, Adults, Biblical Highlights, Math Classics and more!)
Return to Simplicity by Oliver DeMille (29 page pdf with live links to resources on each phase and a new treatment of the 7 Keys!)
Directory of Resources (pdf download that walks you through the TJEd resources – including free sample chapters - so you can find what best suits your individual situation)
Let's Learn Times Tables by Rachel DeMille (11 page pdf with step-by-step suggestions for how to painlessly commit the multiplication tables 1 – 12 to memory!)
So, just why do I think it's one of the best all-around resources? I'll tell you! While I plan on utilizing as many lessons as possible in the future, I am currently focusing on the week of July 5-11. This one week alone was rich with content about Carlo Collodi and the classic Pinocchio, crickets, flowers, George W. Bush, a Japanese festival, the Liberty Bell, creating your own history, Nikola Tesla, Mary McLeod Bethune, Wyoming, E.B. White and John Quincy Adams. As if this wonderful educational smorgasbord weren't enough, there are links to videos, crafts, discussion questions, activities, photos, documents, books, and so much more. I can literally teach all 5 of my children, (ages 14, 12, 12, 4, and 2) from the same content.
Our current focus is on the classic story of Pinocchio and crickets. I am working on a lapbook with my 2 and 4 year old children. Thanks to one of the links included in the resources, I was able to download the Puffin Classic version of Pinocchio to my Kindle Fire. I, myself, had never read the story so I was just as intrigued as my 4 year old was and we read the entire book in one day!
The lapbook we are still working on.
Waiting for Mr. Cricket to finish drying!
I plan on posting more pictures once our lapbook is finished so check back later! Until then, chirp-chirp! :)
By the way, you can also find TJEd on FACEBOOK!