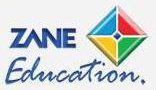 Thanks to the Schoolhouse Review Crew, I was given a 12 month Gold Membership to Zane Education, for review purposes.
Zane Education, the first company to provide "The Missing Piece", provides on-demand subtitled videos, quizzes, lesson plans, and study tools. The addition of subtitles provides each child the option to read, as well as to watch or listen to each video presentation according to their learning style to provide the best learning outcome.
Aligned with State & National Standards, Zane Education currently provides online educational videos for 11 different subjects and more than 260 K-12 curriculum topics (over 1500+ videos!).
Subjects include:
Art
Biology
Geography
Health
History
Library Skills
Literature
Mathematics
Music
Religious Studies
Science
Social Studies

So, what do I think of my Gold Membership? I actually have mixed feelings about it. The video quality left much to be desired, in my opinion, as they are basically slide shows with the option to pause viewing. They appealed more to my pre-k/kindergarten student than they did, for the most part, to my older students. I also did not like some of the subject matter being offered. Since the company is secular, lessons are not taught from a Creation Science or Biblical Worldview, although they do offer for purchase a Christian Home Learning Guide which we were also provided for review. Besides quoting verses from versions other than the KJV, I appreciated having this guide to use in conjunction with our lessons.
Zane has an amazing selection of videos. No matter what you are studying, there is an excellent chance there will be an available video for it! Having the additional lesson material was also an added plus for me as well.
Bottom line? While I don't really care much for the "slide show" presentation, I like the concept and plan to continue incorporating the videos into our lesson plans. Due to the nature of some of the available videos, I do not plan on letting my students randomly browse through the subjects.
For those of you interested in purchasing a membership, Zane Education is offering an amazing discount through the end of August 2012! To receive a 35% discount on the purchase of any annual 12-month Gold, Silver, or Bronze membership subscriptions, simply add the code
ZE398HSM
to your shopping cart!
Membership options include:
Basic FREE Membership, which allows access to demo versions only of over 1000+ curriculum videos.
Gold Membership, which provides access to all 1500+ curriculum videos plus all the extras they have to offer for $17.99 per month/$197.89 per year.
Silver Membership, which provides access to all videos within a chosen GRADE LEVEL plus all the extras for $12.99 per month/$142.89 per year.
Bronze Membership, which provides access to all the videos within a SUBJECT chosen, but some additional resources for $8.99 per month/$98.89 per year.
Topic Taster Membership, which provides access to videos within a single TOPIC chosen for $5 per month.
Have questions? Zane Education can be reached in North America by calling 1-650-488-8204 or by writing:
2060-D Avenida De Los Arboles, #675
They also have a Contact Us form that can be filled out on their website.
Like the
Zane Facebook Page
for more information, fun, and freebies. Their page is one of the most active I've seen!
DISCLOSURE: