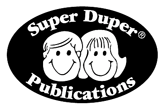 Super Duper Publications is a gold mine of fun, educational learning materials for children. They are currently offering FREE shipping for orders of $20 and over to USA & Canada.
HearBuilder is an interactive program which uses repetition and sequence to help students improve their auditory and following directions skills. At the same time, they work towards becoming Master Toy Makers while building their own Toy Central Factories.
Students will learn to:
Follow increasingly difficult directions

Demonstrate knowledge of 40 basic concepts in five areas:
Quantitative & Spatial Directions
Educators have the opportunity to:
Individualize each student program

Set levels of difficulty for each activity
Identify and print learning objectives for all levels
Add background noise at any level
Monitor progress and track data for an unlimited number of students
Track all relevant data
Customize and print reports
Below are some of my screen shots of the program (my child's name has been replaced with "student's name"):
Inside the factory
Incorrect answer
Program Completed!
Master Toy Maker! Printable certificate.


What I thought about the software:
My son, who is 4, initially enjoyed playing it but after we moved some computers around, I needed him to play it on a different computer and he had to start over. THAT he did not enjoy. When played on the same computer, however, the student's progress is saved and they start up where they left off. Due to the fact that my son had to start over, he has not yet finished the program. I am also using the program with my 2 year old and she is doing surprisingly well on the first set of lessons on Basic Directions.
I like the repetition and introduction of sequence. These are skills that can be used in every day life as well. The graphics and colors are bright and appealing to children. The audio was a big hit with my daughter. When a child answers incorrectly, they are encouraged to "try again". In case they are not listening well enough or need reminded, there is an option to repeat the directions. Having access to Progress Reports was a hit with me because it gives me more of an idea of what skills we need to work more on. I also liked being able to choose what level I wanted my child to begin on (Play All, Beginner, Advanced, or Expert). This can only be set prior to beginning the program. It cannot be changed afterwards.
I did not like the amount of questions that had to be answered before completing some of the levels. I think I counted 100 questions in one of the levels. This is just too much for my son
and his learning style right now. He becomes easily frustrated when things are drawn out and once he has reached that point, he's done.
I completed the entire program myself, so I could see what all it entailed. Overall, I think for the most part it is a very useful program even though there are facets of it that do not work for us right now. I'm honestly not sure I would pay almost $70 for it, but they do have a great 30% off deal right now that would qualify for free shipping so I might consider that.
Their 2012 Catalog can be requested and viewed here.
If you have a child with special learning needs, check out their Super Duper Handy Handouts sections which contains articles pertaining to subjects such as Phonological Disorders, IEP Meetings, Using Constructive Criticism, and more!
I don't have an iPad, an iPod Touch or an iPhone (unfortunately for me), but if you are lucky enough to have one (I'm jealous), visit Super Duper Apps to see what is available in the iTunes App Store.
Bottom line? While costly, I think the program is very beneficial in teaching crucial listening skills and is presented in a fun way that most kids would most likely find engaging. I plan on continuing the program with both of my younger children!