Over the past few weeks, I have been reviewing the Who Is My Neighbor? curriculum set, by Apologia. This book is the third volume of the What We Believe series "designed to help children learn to discern the truth by using God's Word as a lens through which to view the world around them." They learn to see things the way God sees them, and what it means to be the salt of the earth & the light of the world.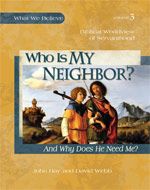 $39.00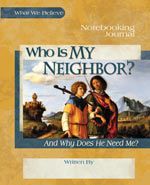 $24.00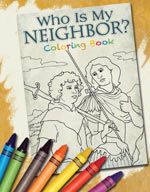 $8.00
Who Is My Neighbor is a family-inclusive, biblical worldview study for children ages 6-14 in which they are taught the basic truths of the Christian faith through engaging stories, notebooking assignments, and Bible study. In this multi-grade curriculum, they learn about Servanthood and how as Christians, it is something we have the privilege of doing because He saved us. There are always opportunities to serve! We just need to have an attitude adjustment of the heart and learn to take joy and delight in the serving of others.
While we just finished Lesson 1, I have enjoyed reading ahead and learning more about Servanthood myself. One of my favorite things that I have come across so far has to do with how PARENTS serve their CHILDREN:
P - Provide for their children
A - Appreciate and love their children
R - Reprove and discipline their children
E - Encourage their children
N - Never aggravate or discourage their children
T - Teach and train their children
S - Set a Godly example for their children
I know this is intended for ages 6-14, but I have used this (with slight modification) with my 4 year old. I also think the text book could be used past the age of 14 as well. This curriculum combines Bible study, history, language arts, reading comprehension skills, and more all in one and I LOVE it!
The only thing I am not crazy about (and I've said this before), is that the verses quoted are from versions other than the KJV Bible. This isn't a huge deal, as I just skip over the verses in the book and read them straight from our KJV Bible. In the Introduction, this is even addressed! It is stated that the Bible verses in each lesson are taken primarily from the New International Version, the New Living Translation, and also some from the New Century Version (which I had never heard of). They recommend that your child use your family's preferred translation for the purpose of memorizing selected passages.
The Apologia website also offers additional resources to help teach this course in the form of 8 PDF files. Access to these files requires a password which is provided in the textbook that you purchase.
The following is just part of a sample lesson plan, based on a schedule of 3 weeks per lesson, 2 days per week:
Day 1: Read "The Big Idea" and "What You Will Do"
Read the Short Story and discuss
Discuss the questions in "Think About It"
Day 2: Study "Words You Need to Know"
Memorize "Hide It in Your Heart" verses
Read sidebar articles and do activities
Write or draw in notebook about what was studied
Day 3: Read and discuss first half of the main lesson
Notebook the "Make a Note of It" activities
Write or draw in notebook about what was studied
If I were using this with an older child, I would find that lesson plan very accommodating. Using it with a younger child, however, required a little flexibility and patience.
A glimpse into OUR Week 1 lessons:
We began by reading "The Big Idea" and the associated Bible verses from our Bible and took a few minutes to discuss what we read. I summarized parts of it, but made sure to give Mr. B the main idea. Then we talked about the "What You Will Do" section. This also involved a mini vocab lesson for words like depend, recognize, and confidence.
After a bit of a break, we read the "Short Story". I had to summarize a bit here as well and rather than discussing the story after we read it, we discussed it while we were reading it. I had to explain a few words to Mr. B. and he stopped me a few times to ask questions about the story but I thought that was WONDERFUL as I knew he was listening and interested! We also talked about the "Think About It" questions while reading the story, instead of after which I think was a good thing because by the time I was finished reading, Mr. B. was starting to get a bit antsy. I thought about letting him color in the coloring book while I was reading the story to him, but I was afraid it would distract him too much. He did enjoy coloring with his sister afterwards though. Next lesson, I may try letting him color during the reading and see how he does. The coloring book is a great tool, but I found the pictures to be kind of random rather than in any kind of order corresponding to the lessons.
Day 2 we briefly touched on "Words to Know" and began working on the memory verses for this lesson. We also looked through the lesson at the side bar pictures and talked about them and worked on the first few pages of the Notebook Journal. We are a family that frequently utilizes lapbooking and journaling, so I was thrilled to receive this not-your-run-of-the-mill Notebooking
Bottom Line? I love Who Is My Neighbor and look forward to using this curriculum set in the months (and years) ahead. It is a goldmine of information!
DISCLOSURE: