What is IXL.com? IXL is a comprehensive, interactive, math practice site for Pre-K through Algebra, that allows teachers and parents to monitor the progress of their students. All of IXL's practice skills are aligned with Common Core and State Standards which will help prepare your student for standardized testing or just give them the extra help they need to grasp and retain a concept. Courses for Advanced Math and Language Arts are also currently in the works.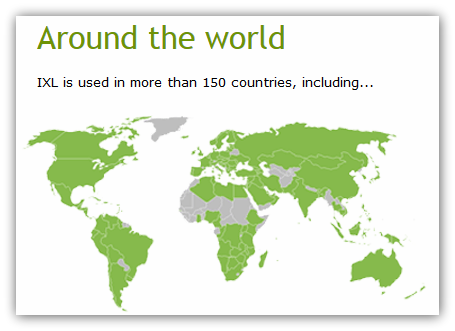 There is so much content on this website that I feel like it would take literally months to thoroughly review. It is honestly one of the most comprehensive sites that I have ever seen which explains why it is currently used in over 150 countries!
As a member of the Schoolhouse Review Crew, I received a family subscription for up to 3 children which I used for 2 of my pre-k students and my daughter who is in 6th grade.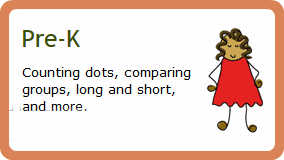 I used both Pre-K and Kindergarten practice lessons with my 4 year old. Some of the Pre-K lessons were way too easy for him (such as counting to 3, 5, and 10) but were perfect for my daughter who is 2 years old and can count up to 11 objects. I appreciate having the option to access skills for all grade levels rather than just one set grade level for each student.
The skills are easy to navigate and are organized into categories. To start practicing, you click on any link. If you hover your mouse over a skill, it shows a sample question.
My son enjoyed the Positions skill the most while my daughter enjoyed counting the dots but I look forward to working with them on other skills as well.
I know it has been awhile since I've been in school, and having "unschooled" for the past several years I haven't really kept up with our state standards, but I was a bit surprised at some of the Kindergarten skills such as Time, Counting Money, and Number Lines. These are skills I remember starting to learn in 1st grade, and they took me awhile to grasp. I think the features of IXL will make it easier for my students to pick up these skills and to build on them. The website is colorful, the graphics are wonderful, and the option to have the question read aloud (pre-k to 1st) totally fascinated my son.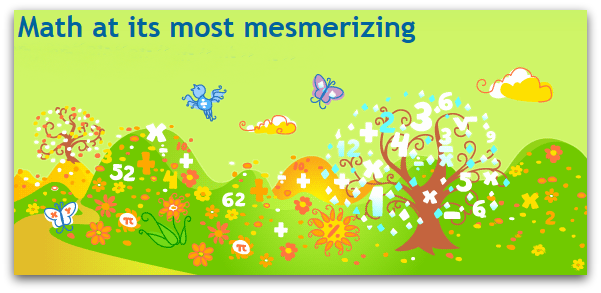 Some of the great things about IXL.com:
When a student answer a question incorrectly, he has the option to have the problem explained to him.
This is something that is helpful for ALL grade levels and as a parent teacher, I am grateful for the explanations for the higher level skills especially! My daughter who is doing 6th grade math has an easier time understanding the process when she can see it in front of her, rather than being told how to do it and why.
The Reports are a very useful tool as they inform you how many minutes your student practiced, what skills were practiced, trouble spots, awards, and more. This can be access on the website by signing in as the "parent" and the report is also sent via email.
There are over 2,000 skills from Pre-K to Algebra with an unlimited number of computer-generated problems to challenge your student.
If you are interested in learning more about the "Left Brain, Right Brain" approach of IXL, visit them online for more information, call them at 1-855-255-8800, or send an email to
Monthly membership to IXL is $9.95 per month or $79 per year. Each additional child is $2 per month or $20 per year. If you are a teacher, and would like to use IXL in the classroom, click HERE for more information.
Bottom line:
While this is not the "best" program I have ever used, it comes close. It is VERY comprehensive, has the extra bells & whistles in the way of reports, and allows my children to have access to skills that challenge them no matter what their grade level. It is a very impressive program!