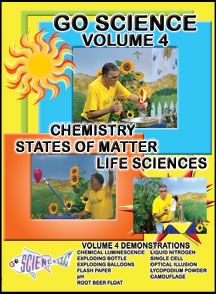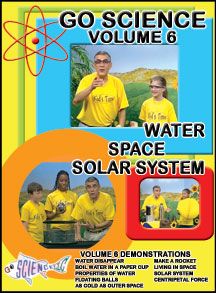 Go Science is a creation-based DVD series authored by teacher Mr. Ben Roy. Each of the 67 demonstrations of physical and chemical science has a spiritual application and points to God, our Creator. This series is recommended for ages 6-14.
Mr. Roy's goal is to captivate, motivate, and inspire students to be excited about science while providing effective instruction at the same time.
The Go Science series, regularly listed for $14.95 individually or $79.95 for the entire set is available at L.E.S. for $8.97 each or $47.95 for the set of 6.
As a TOS Crew member, I received for review Volume 4: Chemistry, States of Matter, Life Sciences which includes the following demonstrations:
Chemical Luminescense Liquid Nitrogen
Exploding Bottle Single Cell
Exploding Balloons Optical illusion
Flash Paper Lycopodium Powder
Volume 6: Water, Space, Solar System which includes these demonstrations:
Water Disappear Make a Rocket
Boil Water In A Paper Cup Living in Space
Properties of Water Solar System
Floating Balls Centripetal Force
Other available videos in the series:
If you are interested in purchasing any of these titles, please visit Library and Education Services. L.E.S. is a small family owned distributorship serving resellers, schools (including homeschools), churches, missionaries, libraries, and licensed daycare centers. If you have any questions about any of their products or need help ordering, give them a call at 269-695-1800 or send them an email at customer@libraryanded.com. They will be happy to help!
What we thought about the DVDs:
While I appreciate the time, thought, and effort that went into producing this series, it was not the right fit for our family. The main reason for this being that even though the DVDs are recommended for ages 6-14, they are very babyish and somewhat reminiscent of a certain toddler's show featuring an annoying purple dinosaur. My 12 year old, who loves all things science, could barely stand to watch the demonstrations for that very reason.
What I DID like is the way that Mr. Roy tied together Science and the One who created it all. L.E.S. carefully selects materials to ensure they are in harmony with Christian values and morals and that's exactly what they did with the Go Science series.
I also appreciated the way each DVD was divided into several smaller segments, approximately 3-6 minutes long, focusing on specific experiments.
Mr. Roy sincerely tries to motivate the kids by sharing his enthusiasm and his love for science and while his presentation did not work for us, it may very well be just the thing you are looking for.
Read what other TOS Crew members had to say about Go Science here.