Amazing Science Volume 1 by ScienceandMath.com is definitely a must have for your home library. This is an amazing DVD set and I am thrilled to own it!
My daughter loves everything and anything that has to do with science and she was in 7th heaven with these experiments. The 2 DVD set includes the following easy (and very cool) experiments:
| | |
| --- | --- |
| Disk 1 | Disk 2 |
| 1) Color Changing Milk | 13) Floating Eggs |
| 2) Egg in a Bottle | 14) Keep Paper Dry Underwater |
| 3) Exploring Air Pressure | 15) Dry Ice Bubbles |
| 4) Build a Lemon Battery | 16) Balloon in a Candle Flame |
| 5) Inverted Cup of Water | 17) Ocean in a Bottle |
| 6) Candle Suction Power | 18) Build a Motor with Lights |
| 7) Amazing Magnetic Force | 19) Simple Lava Lamp |
| 8) Lift an Ice Cube with String | 20) Invisible Ink |
| 9) Unburnable Money | 21) Density Tower |
| 10) Matchstick Speedboat | 22) Soda Can Fizz |
| 11) Reversing an Image with Water | 23) Build a Motor #2 |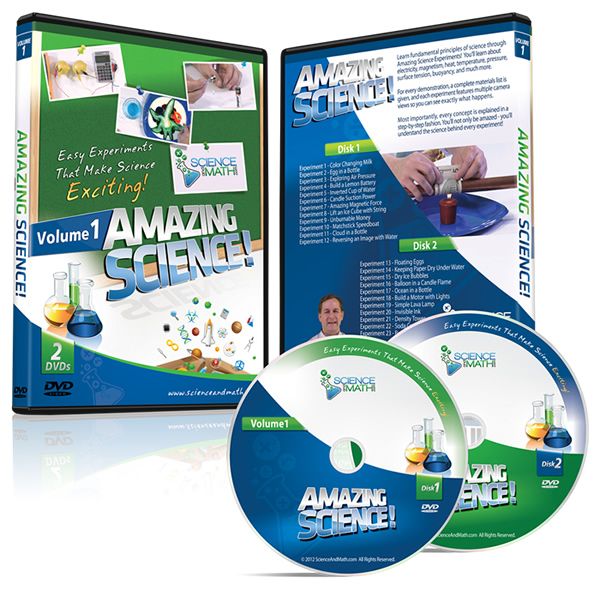 The first experiment we tried out was the Color Changing Milk. I was looking forward to posting our pictures, but they seem to have disappeared from my computer. I will definitely update my post when/if I find them! All of the experiments use items most people normally have around the house. Color Changing Milk required a plate deep enough to hold milk, a q-tip, some dish soap (Dawn was recommended), and food coloring. My daughter started off by pouring the milk into the plate and then adding several drops of different colors of food coloring. Next, she dipped the q-tip into the dish soap and touched the milk with the q-tip. She was very excited by what happened next and kept telling me how "cool" it was.
This DVD set has one of the best presentations I have ever seen. Each experiment shows multiple camera views, lists every material needed to perform the experiment, gives step-by-step instructions, and explains why and how the experiment worked. The presenter is great and could be talking to a 4th grader or a college student. I really hope there will be a Volume 2 sooner rather than later!
Watch the short video below to see other awesome experiments in action!
This DVD set can be purchased for $19.95 + shipping or you can purchase and download all experiments (available for immediate download) for $$17.99.
You can follow @ScienceJason on Twitter, find them on Facebook as Math Tutor DVD, and watch other amazing videos on YouTube.
Read what other TOS Crew members thought of Amazing Science here.
Disclosure: