Over the past month, I have been reviewing Reading Eggs with my 4 year old. He absolutely LOVES the program and asks to play it on a daily basis (sometimes several times a day). In a matter of a few days, he was trying to sound out words that contained the letters that he had been practicing. I am amazed at his progress!

So, what exactly IS Reading Eggs? It is an online literacy program for early readers ages 4-8 that builds on and reinforces phonemic awareness, phonics, fluency, vocabulary, and comprehension. Fun games & songs, interactive animations, learning activities, and rewards makes this innovative program work to motivate your child to learn. Want to know more? View a sample lesson.
Some things I love about Reading Eggs:
It is online, so it is accessible anywhere.
It is a secure environment, with no ads.
The program tracks your child's progress so you know what they are learning and what they need to work on.
It is highly customized to your child's learning level.
A certain number of lessons must be completed & skills mastered before the student can move on.
The student is rewarded with "eggs" after each lesson is completed, which they can spend on creating avatars, playing games, and purchasing items for their virtual playhouse.
After every 10 lessons, children complete a Mastery Quiz & can repeat lessons as many times as they like.
If you have a student in 2nd-6th grade, check out
Reading Eggspress
. The program has a wide range of resources, lessons, games, e-books, and reporting. If you are already a Reading Eggs customer, Reading Eggspress will be included in your existing subscription at no additional cost.
How much does Reading Eggs cost?
Parents have two options: a 6 month subscription for $49.95 or a 12 month subscription for $79.95. If you add a 2nd or 3rd child at the same time you will receive 50% off their subscription price.

Below are some of the program's screen shots: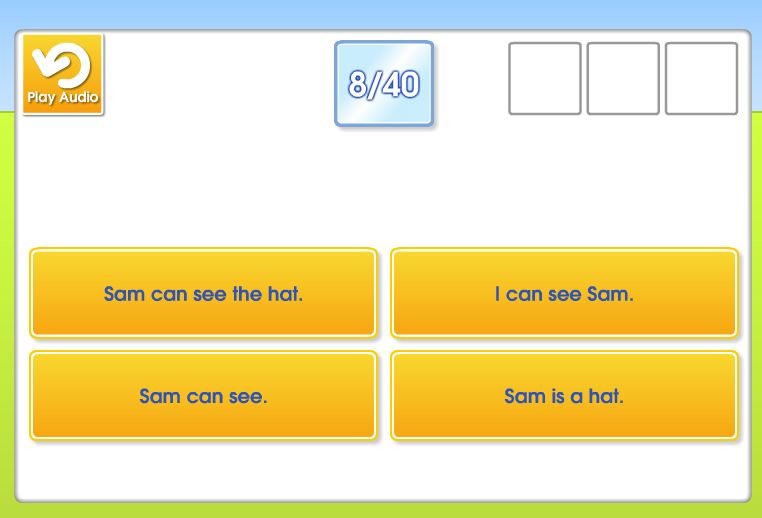 Quiz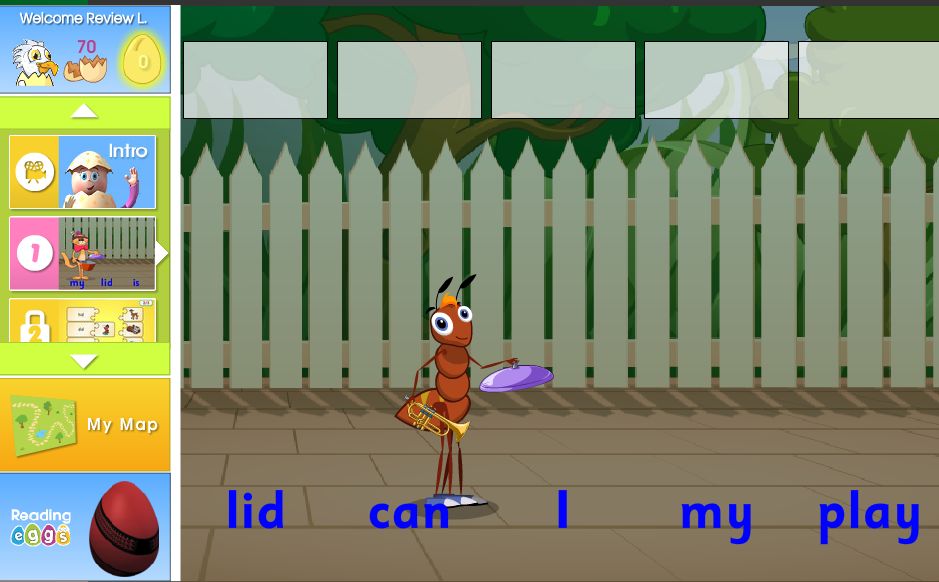 Sentence game.
New games & characters are unlocked after each set of lessons are completed.
Parents, try the program out for yourself by signing up for a FREE 5 WEEK TRIAL! If you are a teacher, sign up for a FREE 4 WEEK TRIAL, download the PDF order form for school pricing information, or contact the company by emailing readingeggssales@archlearning.com or calling 1-877-394-6695.
99.6% of parents who use Reading Eggs have seen a significant improvement in their child's reading skills.
Reading Eggs has already taught over 500,000 kids to read.
Over 200 elementary schools across the U.S. are using the program in their classrooms.
98% of teachers recommend the program to other teachers.
If you are looking for an amazing program that will grab your child's attention and help them to learn to read without realizing it - this is the one! I look forward to continuing our reading journey with Reading Eggs!
Read what other TOS Crew members thought of Reading Eggs!
*Disclosure: I received this product for free in exchange for an honest review. All opinions are my own. No other compensation was received.