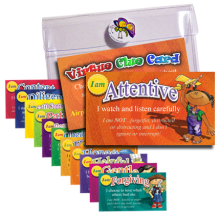 I recently read this quote on their Facebook page:
The ability to simplify means to eliminate the unnecessary so that the necessary may speak. ~Hans Hofmann.
I think that is exactly what We Choose Virtues has done with their take-everywhere full color clue cards. I love that they come in a clear plastic envelope that just happens to be the perfect size for my purse or diaper bag. Each card features a Virtue Kid, a catchphrase and antonym, and a "You can do it!" challenge. Children need to learn at an early age what to say when someone asks them to do something wrong. These catchphrases help them know exactly what to say during those times when you might not be there to guide them.
My son's favorite was "I am Obedient". He just turned 4, but the "Ok, whatever you say, I will obey, right away." catchphrase helped him to focus and to remember this virtue. He looked at the card frequently throughout the day, and only had to be reminded once that he should "obey right away".
These cards are designed for use for early childhood to elementary, but they also have products designed for children up to 18 years of age. The Virtue Clue Cards that I received are currently on sale for $5.99 (a 25% savings)!
They also carry kits such as homeschool, classroom, Sunday school, and family as well as posters, journals, flash cards, and more. Please visit We Choose Virtues website for more information about their product line and prices.
I love the coloring pages. The Virtue Kids are SO cute!
$3.00 pdf download
You can also find We Choose Virtues on Facebook where you can find sale information and tips on parenting, leadership, and inspiring lasting virtue.
Read what other TOS Crew members thought of this product here.
*Disclosure: I received this product for free in exchange for an honest review. No other compensation was received. All opinions are my own.