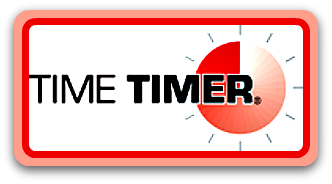 The Time Timer has been a most welcome addition to our home. It is used most often to help my youngest son, who is soon to be 4, understand better the concept of time. Having 3 older children who already know how to tell time (well....I should hope so considering the fact that they are 12, 12, and 13), I was catching myself telling my 3 year old to "wait a second" and "you can play for a few more minutes." Like he really understood that! What was I thinking?
So, when I received the Time Timer to review, I immediately removed it from the box and put it to use. My son likes watching PBS shows on his sister's computer and playing pre-school computer games. My daughter isn't too crazy about that, mainly because Mr. B. never wants to get off of her computer so she can use it. The Time Timer worked like a charm. I told him he had 30 minutes to play, and when the red was gone, his time was up. He was very excited to visually see how much time he had left rather than being told that he had "a few more minutes".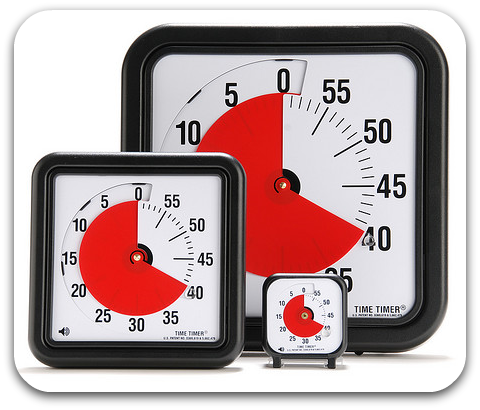 The next time the Time Timer was used was for a time out. The 3" model is perfect for smaller hands, and my son wanted to hold it so he could watch the red disc disappear. In his own words, "That's so cool, Mom!" We have also used it during bath time (which would last for hours if I let it), so he would know how much time was left for him to play. I love the see-through protective plastic cover that also serves as a stand.
Two things that I wasn't crazy about:
1) The audible ticking, which in all fairness probably isn't really that loud but I have very sensitive hearing. If all is quiet, I can hear it ticking on the other side of the room. Of course, it doesn't bother my 3 year old but one of my older children did notice the ticking when it was sitting right in front of them so I'm thinking if I use it during a testing situation, it will need to be a bit farther away from them.
2) The literal "beep beep" as a signal that time is up is hardly noticeable. I understand the need to eliminate a jarring ringing noise, but it would be nice if the audible signal were a bit louder or longer in my opinion.
Regardless, the pros far outweigh the cons. I would highly recommend this product for personal, homeschool, business or classroom/group use, or for any other situation where you need to manage and make full use of your time. I am looking forward to using it to help my younger children understand the concept of time and to help them make every moment count.
The Time Timer is available in 3" for $30, 8" for $35, and 12" for $40 and can be ordered online, by calling 1-877-771-TIME and using a credit card, by fax or mail with a Purchase Order, or by mailing a check or money order. For more detailed purchasing information, visit their website by clicking HERE.
Other products available include a Time Timer Wrist Timer, iPhone & iPod applications, Time Timer software for your computer, The Time Timer Puzzle, and blank timer faces & application stickers to customize your Time Timers.
Time Timer's goal is not just to meet your expectations, but to exceed them and the company offers a 1 year, 100% satisfaction guarantee on all of their products. From it's initial production in a basement to global expansion, Time Timer has come a long way in it's approximate 20 years of existence! Read more about inventor Jan Rogers and her journey to success HERE.
Visit the Time Timer blog for more ideas on how to use the Time Timer & read about the surprising places where it's been spotted (Rocco DiSpirito's cooking show for one!)
Visit them on FACEBOOK!
Read what other TOS Crew members thought about this product HERE.
*Disclosure: I received this product for free in exchange for an honest review. All opinions are my own. No other compensation was received.