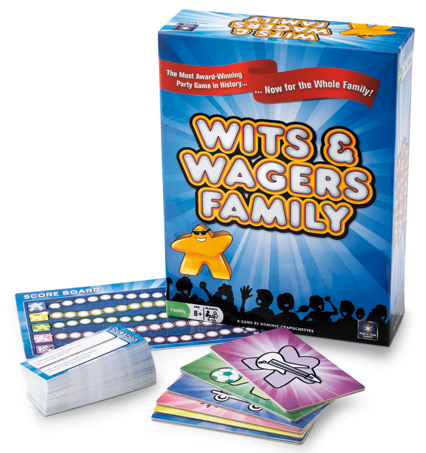 North Star Games brings friends and families together with fun, innovative party and family games.

Prior to reviewing Wits & Wagers Family for the TOS Crew, I had never heard of North Star Games. To be honest, we don't really play a lot of board games together as a family so, I didn't know what the kids would think about this one. To my surprise, they loved it and play it often.

The game is very simple to play. After a card is drawn, every player writes down their guess to a fun question on a small dry-erase board (included). Then, players try to score points by choosing which guess is closest to the right answer without going over.

The game features 300 family-friendly questions and includes cute little human-shaped game pieces called Meeples that the players use to select which answer they think is correct.
There is a Wits & Wagers Expansion Pack 1 available on Amazon.com for $13.59 and includes 100 cards each with 7 questions as well as 3 new dry-erase pens and can be used with the Wits & Wagers Family rules. I'm relieved to know this, because that was my one worry about this game. If the kids played it often enough, they would come to know all of the answers and the game would no longer be competitive. This solves that problem!

This is a great game to play on family game night and would be perfect for gift giving as well!

During the holidays, my husband's family has quite a few get-togethers and more often than not, they end up spending the evening playing one game after another. This year, I think I'll take our Wits & Wagers for all the kids to play.

This family game is for ages 8 and up.

Click HERE to find a store near you.

North Star Games can be found on FACEBOOK and TWITTER!

To read other TOS reviews, click HERE.


*Disclosure: I received this game for free in exchange for an honest review. All opinions are my own. Not other compensation was received