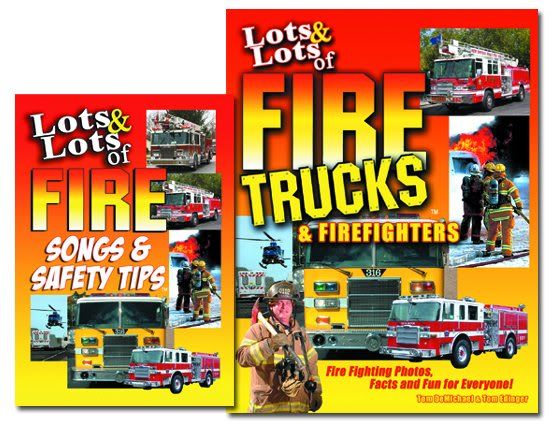 Item # MPP-FTBD
Marshall Publishing Homeschool Special!
Save $30 off the regular price of $49.95 and pay only $19.95 (plus S&H) on the book & DVD combo by entering coupon code TOSF1 at checkout!
Teach your kids and family about fire safety and everything else there is to know about fire trucks and firefighting!
Lots & Lots of Fire Songs & Safety Tips includes 9 topics and songs including "Call 911" & "Stop, Drop, and Roll".
Lots & Lots of Fire Trucks and Firefighters is a full color 128 page book!
From the time my older kids were little, my husband has been a volunteer firefighter.
Lieutenant Daddy with Mr. B
The station my husband runs with is actually about 5 minutes away from our house so we pass it often. My youngest son, Mr. B, is almost 4 and it never fails to excite him when the bay doors are open and he gets a glimpse of the fire trucks parked inside.
.
Mr. B
My children and I have had the privilege of riding in several of the different fire trucks during parades and have even helped with the huge task of washing them and getting them parade ready! The fire house is a familiar place!
Even so, when I received the chance to review this book & DVD combo for TOS, I jumped at it! The DVD held my son's attention for several viewings straight. He was riveted and still likes to watch it. One of the things that immediately caught our attention were the songs. We recognized the voice as the same musician who sings on the Toy Trains DVD (which my son adores), James Coffey. The songs provide attention grabbing learning fun and include: Lots and Lots of Fire Trucks; Call 911; Fireman Jim's Safety Tips; Stop, Drop, and Roll; Your home Safety Plan; It's an Emergency; Heroes Brave and Tall; Great big Fire Trucks; and Fire Trucks in Action.
The 128 page book is truly not just for kids - even my husband enjoyed looking at it and learned a few things!
It is a fun learning tool and reference guide that can be used in libraries, fire house training, the home school, and the classroom. The full-color photos add to the experience. Topics include: Meet the Firefighter; A Firefighter's Tools & Equipment; All Kinds of Rescue Vehicles; Fire Fighting Facts; Fire Science Basics; Fire prevention Week; Safety Tips; Firefighters in Action; Tributes to Firefighters; Old Time Firefighter's Alphabet; Classic Fire House Traditions; History of Fire Trucks & Firefighting; Antique Fire Trucks; Greatest Fires in History; Firefighting Time Line; Fire House Museums; Fire Related Websites; and more!
If you are looking for a fun way to teach fire safety, this is the way to go! Perfect for young and old alike.
I also received, from Marshall Publishing, George Washington Carver: His Life and His Works DVD which is a 30 minute story of Carver's life - a life not to be forgotten. For anyone looking for an inspirational story about Carver's life and inventions, this is for you.
Visit
http://www.marshallpublishinginc.com/ to check out their other money-saving DVD Value-Packs & As Seen On TV Offers and to order online. You can also place an order by calling 1-888-300-3455.
To read other TOS reviews, click HERE.
*Disclosure: I received this product for free in return for posting an honest review. All opinions are my own. No other compensation was received.