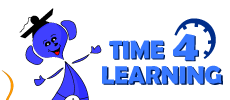 Time4Learning is a web based, award winning program that combines learning with fun educational teaching games. The lessons can be individualized and tailored to each student's needs to help them master the skills that they need to learn to succeed, and have fun at the same time.
As a TOS Crew reviewer, I was given a 30-day membership for up to 4 of my children. After a rocky start with a couple of registration glitches, we were on our way. My youngest son is almost 4 and I chose Pre-K and Kindergarten classes for him. He needed a bit of help navigating his way around since he doesn't read, but he had no trouble at all playing the games and has learned quite a bit in the short time we've had access to the program.
My 3 older children all have different learning styles, but I think with the Time4Learning program, there was something for each of them to catch their attention and hold their interest and it was helpful to be able to choose different grade levels for different subjects when needed.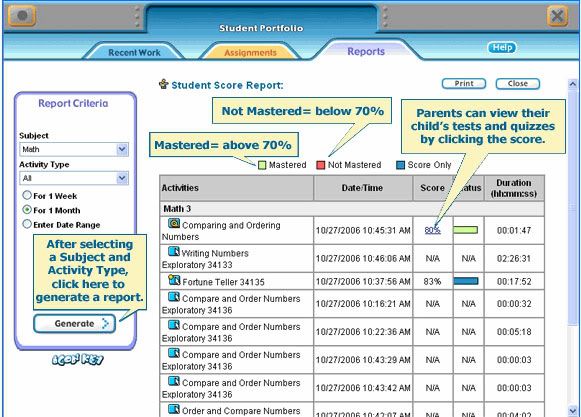 Detailed reporting for easy record keeping.
The primary curriculum is language arts and math but science and social studies are offered as an added bonus for some grades. Because Time4Learning is web based, it can be accessed anywhere, 24 hours a day, 7 days a week, which makes it ideal for families who travel a lot or for those who have less than traditional schedules (that would be us!). Some homeschooling families use the program as their core curriculum, while others use it as a supplement.
A Time4Learning Membership is $19.95 monthly for the first child and then $14.95 for each additional child. You can get more information, or sign up now HERE.
What a membership includes:
Online curriculum for grades Pre-K through 8th
More than 1,000 interactive animated lessons
Tutorials for math & algebra & printable worksheets
Language arts, phonics & grammar lessons
Interactive, project-based reading activities
Science (grades 1st - 6th) & social studies (grades 2nd - 7th)
Detailed reporting for easy record keeping
Teaching tools for parents and much more!
Some lower level screen shots:
Synonyms, Antonyms, & Homophones is lesson 1 of 130 lessons.
Exploring probability and using data is one of the major milestones explored in 2nd grade math.
For a grade by grade curriculum overview, click here.
My overall opinion of this program is that it would be well worth the membership fee for all that it includes. It is not something, however, that I would personally be able to afford for 4 children as a core curriculum. I loved the graphics, the lessons, the format, and just the total overall package. It is definitely worth checking out!
Click here to read what other TOS Crew members thought about the program.