Wise Alec Nature Nuts Travel Game & Expansion Set by Griddly Games is a game my entire family enjoyed playing. Although intended for ages 8+, with a little modification, my 3 1/2 year old enjoyed playing right along with us, and I was surprised at the number of questions he actually knew the answers to! Because of the die, there is a choking hazard warning, so I took precautions playing it around my 16 month old.
"Explore the marvels of nature with the trivia game based on the award-winning Wise Alec Family Trivia Game! There are 300 questions to test your knowledge of animals, plants, and the Earth. Two levels of questions, on each card, let everyone from the nature novice to the eco-expert play together. Plus, Wise Alec cards will get you going with clever challenges and fun activities!"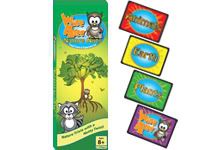 We found some of the 7 point questions to be extremely easy, such as "What type of animal lives in Africa and has the longest neck", but for the most part, they were challenging questions ranging in difficulty. Three of our favorite cards provided much laughter (and a bit of humiliation): "Do your best impression of a monkey", say this tongue twister 5 times, "Selfish sharks sell shut shellfish", and the card I drew making me do the Yoga tree pose. Sorry....NO pictures of THAT!
We thoroughly enjoyed this game, and plan on taking it with us on our next road trip to Indiana in a few weeks. The one thing I wish this game included was a small pad of paper and a pencil, or at least room for one in the box. Other than that, I have no complaints whatsoever and highly recommend this game for yourself or as a gift!
Nature Nuts can be purchased online at Amazon.com for $14.99, as well as at other retailers.
Visit Griddly Kidz Zone to download coloring pages and to play online games. Click HERE to check out the other great games from Griddly Games.
Please visit our TOS Homeschool Crew blog to read what other reviewers think about the game.
*I received this product free to review in order to provide my own honest opinion. No other compensation was provided.