Big IQ Kids
is an interactive online learning tool designed to help kids develop the skills they need and perform to their full potential. Their programs are intended for K-8th and can be tailored to suit each student's individual needs whether they need challenged or help catching up and with two different memberships to choose from, there really is something for everyone. What's the difference between Free and Premium? You can view the differences and see how the program works here.
What IS Big IQ Kids? Take a look:
As a TOS Crew member, I received two 1-year Premium memberships for review. I am using the program with my 6th and 7th graders. My seventh grader started out with Math but found it to be a bit too easy. One of the things I love about the program, is that I can change the skill level to make the lessons more challenging for him. Each lesson is timed and builds on the previous lesson which is perfect for my daughter, who needs that repetition. I think one of my favorite things with this program is the ability to create our own spelling & vocabulary lists from books we are currently reading.
The Premium membership includes Spelling & Vocabulary, Math, and U.S. Geography with the ability to monitor the progress of each student, identify problem areas, and receive reports via email. The program also offers students the ability to create their own "Buddys" and are awarded with educational and strategic arcade type games to play once they have completed their lessons.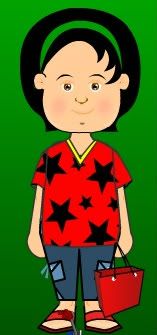 Make your own Big IQ Buddy


Premium Spelling memberships
start out at $7.99 and can be upgraded while
Premium Vocabulary Memships
begin at $9.99. Spelling lessons include word scramble, pop quizzes, saved word lists, and more. Vocabulary lets you add new words to the database, take tests, practice sentences and definitions, and a lot more.
Premium
U.S. Geography memberships
are $39.99 and include built in reviews, interactive map with quizzes, state movies teaching commonly known fact about the United States, and more!
Bundle packages
are available. For a FREE 7-day trial membership that includes Premium Math & U.S. Geography, click
here
.
Find Big IQ Kids on
Twitter
and
Facebook
and read their
blog
!
To read what other TOS Crew members thought about Big IQ Kids, please visit the
TOS Crew blog
.
*Disclosure: I was provided with two free 1-year memberships in order to review this product and provide an honest opinion. No other compensation was provided.