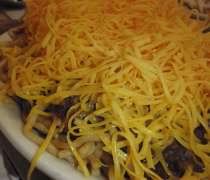 About a week and a half ago, we celebrated the 11th birthday of our twins. Each one wanted a different birthday dinner and my son, as usual, chose homemade "Skyline" chili. If you have never been to Ohio, you may have never heard of Skyline Chili but if you live in or near the Cincinnati area, the restaurants are all over the place. The chili is unique as is includes cinnamon and cocoa in the recipe. It's served on top of spaghetti and topped with a finely grated Cheddar cheese ( a 3-way), over spaghetti and beans or onions, topped with cheese ( a 4-way), or over spaghetti and beans topped with cheese and onions ( a 5-way). Oyster crackers are served on the side. The chili is also awesome over hotdogs on buns topped with cheese and/or onions or used to make chili dip (mix the chili with cheese and a block of cream cheese) for corn chips or tortilla chips. We have actually also used it on pizza in place of the sauce and topped it with onions and cheese!
To view the real deal, visit Skyline Chili
HERE
.
Here is a recipe that I found on Cooks.com and adapted it to make a milder chili.
Ingredients:
2 Qts. Water
1 & 1/2 Tbsp Dried or Minced Onion
14oz Can Tomato Sauce
1/2 Tsp Ground Allspice
1/2 Tsp Red Pepper Flakes
1/4 Tsp Ground Cumin
3 Tbsp Chili Powder
1 & 1/2 Tbsp Unsweetened Chocolate
2 Lbs. Ground Beef
2 Tsp Garlic Powder
2 Tbsp White Vinegar
1 Whole Bay Leaf
4 Whole Cloves
2 Tsp Worcestershire Sauce
1 & 1/2 Tsp Salt
1 & 1/2 Tsp Cinnamon
Directions:
Add ground beef to water in large pot. Stir until beef separates to a fine texture (I use a potato masher). Stir several times to make sure there are no clumps. Boil slowly for 30 minutes. Add all other ingredients. Stir to blend, bringing to a boil. Reduce heat and simmer uncovered for about 3 hours. Pot may be covered the last hour after desired consistency is reached.
Chili should be refrigerated overnight, so that the fat can be lifted from top before reheating but we've eaten it without doing that. Using a leaner ground beef will cut down on the fat. Also, if you see the bay leaf or cloves, remove them!
This is definitely one of our faves!