It's that time of year again. Time to start planning for the holidays. For us, it is a very busy time of year with more than a handful of birthdays to celebrate, as well as your usual holiday festivities & parties. I love scrapbooking and paper crafts and often recruit my daughter to help me fashion handmade Christmas cards, but with a new addition to the family, my time will be a bit too limited to accomplish such a feat this year. Instead, I will be creating my own personalized holiday cards at Purple Trail. Here is one I made using the Design Center. You can't tell from the picture, but I added animated snow.
With a wide selection of
personalized holiday cards
to choose from, Purple Trail is sure to have a design with your name written all over it! Below are a few examples of their designs.
Creating your own Custom Card has never been easier. See for yourself!
I think one of the most obvious ways to personalize any card, is with a picture of the family or just the kids by themselves. I have a childhood friend that I have not seen in ages, but every year we receive a Christmas card with a picture of her two children, taken during a family vacation earlier in the year. I love looking back at cards from years past, and seeing how much they've grown.
Another way to make your card your own, is to add a newsletter. It can be elaborate or plain & simple. You can even buy holiday stationary in office supplies stores, which makes it even easier. Have your child draw a picture, include a favorite holiday recipe, write about what you've been up to throughout the year. I love it when my friends and family tuck these into their cards & I hope they feel the same way when we include ours.
Something I plan on doing next year, is making a CD of family photos taken throughout the year, and putting the holiday greeting on the CD label itself. Cardboard CD mailers can be purchased for next to nothing and if mailed first class, postage is reasonable. Decorate the envelope with holiday mailing labels, and it's ready for the postman. Just remember, this is a card better suited for family than for your boss! Unless, of course, your boss IS family.
Scrapbooking & paper crafting is also a great way to personalize your cards. There are so many different prints and themes on the market, the possibilities are endless. There's no rule that says holiday cards have to be decorated with Santa, Christmas trees, and Snowmen. Make then Shabby Chic, Retro, Modern; add embellishments, stickers, and stamps. The sky is the limit.
But, on the other hand.......
One of the most beautiful cards I ever received, was also the simplest. It was a plain white background with a black and white picture taken of our friend's log cabin after a considerable snowfall. It humbly said, "From Our House to Yours" and opened up to read "Merry Christmas". Sometimes, less is more.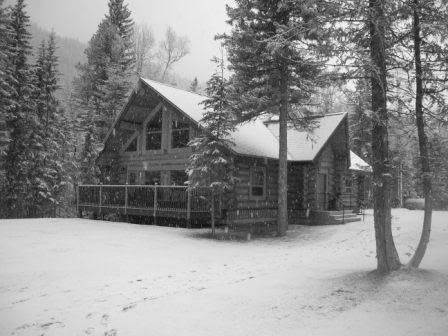 This is NOT my friend's log cabin - but you get the picture!
http://www.purpletrail.com/blogcontests