The weekends are supposed to be enjoyable, right? Then why am I wishing this one would end, and SOON!?! It started out with my husband forgetting our 16th wedding anniversary yesterday. Guess I'll get over that, eventually. Today hasn't really been horrible, just stressful. Anybody who has dealt with an almost 3 year old toddler who has a newly developed affinity for spitting, screaming, hitting, and all things associated with developing independence knows exactly what I mean. Luckily, for my sanity, the little one is now visiting dreamland. Unlike last night, when he refused to go to sleep because one certain husband let said toddler take a 5 p.m. NAP! What was he thinking?
Hoping tomorrow will be a bit more of a productive day. I really must get my lesson plans
finished
started for the week. I used to be so organized! Then, I had kids. I think they are holding my brain hostage.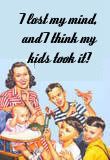 The Student Planners that I pre-ordered from
The Old Schoolhouse
just recently became available to download and I finally got around to doing that today. Now....to print them out. Good thing I have a laser printer because there are 236 pages in the Secondary Planner that I purchased! I am hoping that it will be a miracle worker in my harried home. One of the things I love about this planner, is that there is a "Library Items Book Due" page. Whoo Hoo. We could have traveled to Europe on the fines that we have paid over the past few years. Well, maybe not Europe but Disney World for sure. I love how I can type in data, save it, and print it out. Maybe there is hope for me yet! If you are looking for a planner, check out
The Schoolhouse Store
where you get 2 free gifts with Student Planner purchase through 10/17/2010.
On a funny note, check out the video below. Any homeschooler will find the humor in it!